Abolin Co Sponsor of The Building The Future Project
Τhe Greek Ministry of Environment, Energy & Climate Change recently announced a new program named: "Building the Future", which contains a number of subprograms in the fields of Energy Efficiency and Renewable Energy Sources. One of the subprograms within this program aims at developing the Greek ESCO (Energy Service Companies) market through the implementation of pilot ESCO projects in buildings of the public sector.
CRES ( Center for renewable energy sources and saving) will support both the State and the ESCOs for the development of the Energy Service market in Greece and especially for the implementation of ESCO projects in the Public sector. Specifically, CRES will support the preparation and the implementation procedure of selected EPC pilot projects in buildings of the Public and the broader Public Sector.
This Program, aims at accelerating the development of the Energy Service market in Greece, by applying rules of healthy competition, for the implementation of pilot projects, that will highlight/ bring forward the benefits of such a cooperation, and will set an example for the implementation of future EPC projects in other buildings of the Public Sector, which present high Energy Saving potential.
The special cere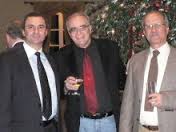 mony for the project was attended by Abolin Co. The event took place the 22th of December 2011 at Kostis Palamas building of the University of Athens. In the photo (from the left), the Chairman of Abolin Co, Mr Antonios Perdikis, the President of Cres Ph. Matheos Santamouris and the Head manager of the "Environment and sustainable Development" Project ( EPPERAA), Mr Asterios Hatziparadisis.